Distilleerderij: Benrinnes
Regio: Schotland (Speyside)
Fles: Benrinnes 26 Year Old 1991/2018 The Single Malts of Scotland, Hogshead #509, 165 bts
Kleur: goud
ABV: 49.2%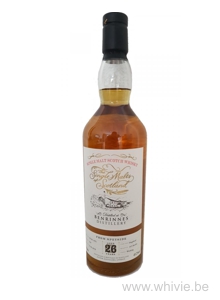 07
Pompelmoes sap
De in 1829 opgerichte Benrinnes distilleerderij werd in 1923 verkocht aan John Dewar's & Sons die zelf in 1925 opging in DCL, de voorloper van huidig eigenaar Diageo. The Single Malts of Scotland is een label van Elexir Distillers – aka The Whisky Exchange. Deze Benrinnes rijpte 26 jaar lang op een bourbon hogshead dat nog 165 flessen opleverde.
Zoetzure neus op vooral citrusfruit. Denk citroen en pompelmoes. Daarnaast komt nog wat abrikoos opzetten, terwijl een flink florale toets zich ook komt moeien. Denk rozenwater. Dan volgen karamel en gember.
Oh, dit is mooi. Hij komt zacht binnen en toch is hij mondvullend. Wordt zelfs wat romig. Pompelmoes sap, kinine, honing, rode en stekelbessen, aardbei en bijenwas. Erg fruitig en rond. Bitterzoet met de nadruk op het zoete, dankzij nog een goeie dosis karamel. Gaat gevaarlijk vlot binnen.
De afdronk is middellang op meer van hetzelfde.
Prima, fruitige malt die meer levert dan de neus beloofde.
86/100
Geproefd door Mark Dermul op 05-01-2020
(om snel andere tasting notes te vinden, surf naar www.whivie.be).