Distilleerderij: Ardmore
Regio: Schotland (Highlands)
Fles: Ardmore 8 Year Old 2013/2022 The Whisky Mercenary & 't Parlement 10th Anniversary Joint Bottling #2, Bourbon Barrel, 261 bts
Kleur: witte wijn
ABV: 53.8%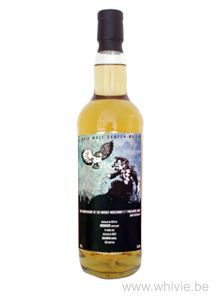 Parlement
The Whisky Mercenary – Belgisch bottelaar – en 't Parlement – fantastisch whiskycafé in Halle – vierden in 2022 allebei hun 10-jarige bestaan en besloten daarom gezamenlijk een whisky uit te brengen. Excuus: twee whisky's! Een Balmenach en een Ardmore. In mijn glas zit de laatste, dus van de joint bottling #2, zijnde een jonge en zeer bleke Ardmore.
Erg zoete en tegelijkertijd peaty neus op vanille, gerookte makreel,  appel en schoenpoetsmiddel, oestersap en citroenschillen. Nog een beetje roet. Dit staat mij onmiddellijk aan.
Goeie body. Lekker olieachtig. Onmiddellijk erg zoet op vanille en zelfs honing, alvorens de turf zich komt moeien en een flink rokerige trap tegen je tanden geeft. Krachtig! Mineraal en herbaal, terwijl appels en citroen zich in de debatten komen moeien. Erg clean.
De afdronk is lang waarbij hij de mond helemaal lekker warm achterlaat.
Goed. Dit is mijn 40e ontmoeting met Ardmore en dat is mij goed meegevallen. Knappe vatselectie. Zo'n 95 EUR en nog beschikbaar bij mijn goeie vriend Jeroen van The Bonding Dram.
85/100
Geproefd door Mark Dermul op 08-01-2023
(om snel andere tasting notes te vinden, surf naar www.whivie.be).