De derde en laatste editie van de Save Lars Whisky is gearriveerd!
Na de succesvolle restauratie van de iconische Star Wars filmset in Tunesië vierden twee van de crew – Mark Dermul en Imanuel Dijk – dit gebeuren met een release van een Bruichladdich 1992. Het was een schot in de roos en de start van een liquid trilogy. Niet veel later kon de tweede release de deur uit: een Auchentoshan 1989.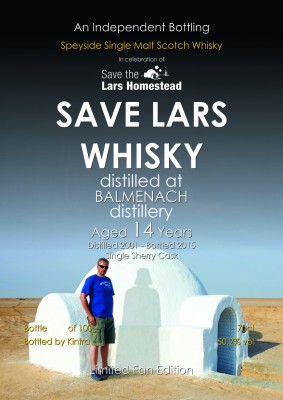 Na een zoektocht die meer dan een jaar duurde is er nu de Save Lars Whisky III – the Final Edition. Inderdaad, het is de laatste in de reeks. Mark & Manny kozen voor een geweldige Balmenach 14 Year Old 2001, gebotteld op vatsterkte.
Je kan hem hier bestellen: www.markdermul.be/savelarswhisky. Maar wees er snel bij! Hij werd gisteren pas gelanceerd en nu al zijn er meer dan 80 flessen voorbesteld…
May the Malt be with you!