Distilleerderij: Mortlach
Regio: Schotland (Speyside)
Fles: Mortlach 10 Year Old,  Signatory Vintage 2000, Scottish Wildlife
Kleur: witte wijn
ABV: 43%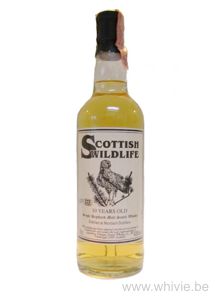 Mager Beestje
The Beast of Dufftown! Mortlach is de oudste distilleerderij in deze hoofdstad van de whisky. In het glas zit een golden oldie van Signatory, gebotteld in 2000 onder het 'Scottish Wildlife' label (waarin ooit ook nog een Strathmill, Balmenach en Port Ellen werden gebotteld, ook allemaal op tienjarige leeftijd). De whisky rijpte tien jaar en zit dus ondertussen al dubbel zo lang op fles.
Deze Mortlach ruikt jong en grassig met flink wat moutsuikers en gele appeltjes, stekelbessen en… een wolkje diesel. Druivensuiker en aspartaam, honing en vers afgereden gras. Een panoplie aan geuren, maar… het werkt best, maar is niet groots.
De body is aan de lichte kant. Een beetje te licht naar mijn zin. Prima verderzetting van de neus met appels en stekelbessen, nu opgeleukt met wat peper en kalissehout. Maar… het moet gezegd: dit had wat complexer gemogen voor The Beast. Dit is maar een mager beestje (ziet u wat ik daar deed?).
De afdronk is middellang en evolueert van licht zoet naar licht bitter met een korreltje zout.
De neus viel me erg mee, maar ik had hogere verwachtingen op smaak en die werden helaas niet ingelost.
84/100
Geproefd door Mark Dermul op 24-12-2022
(om snel andere tasting notes te vinden, surf naar www.whivie.be).