The Whiskyman

Palmares
Dominiek Bouckaert heeft al heel wat op zijn
(whisky)-palmares staan. Zo is hij mede-oprichter van de Fulldram whiskyclub in
Leuven, actief lid van het Lindores Whisky Festival, schrijver voor het
Nederlandstalige magazine Whisky Passion en begeleider van tastings. Maar het
is duidelijk niet genoeg.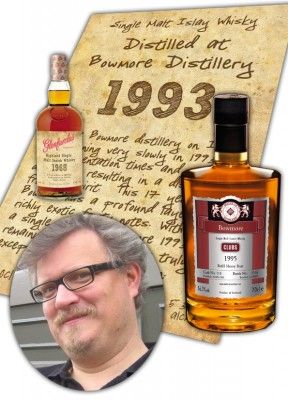 Nadat zijn goede vriend Luc Timmermans zich in 2011 terugtrok
als verdeler van Malts of Scotland en Thosop in België, nam Dominiek gretig de
fakkel over. Sindsdien is het allemaal in een stroomversnelling geraakt.
While My Whisky Gently Weeps
Dominiek lanceerde in september 2011 zijn eigen label –
uiteraard 'The Whiskyman' genoemd – met bijzonder opvallende (sommige zeggen
zelfs schreeuwerige) labels en bijhorende benamingen. Dominiek's voorliefde
voor goede rock & roll is hier duidelijk in terug te vinden.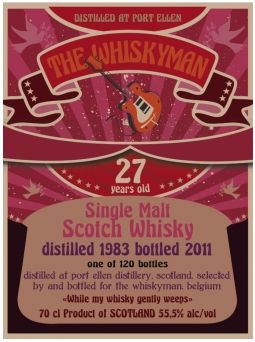 Het betreft telkens single cask bottelingen op vatsterkte, in
bijzonder beperkte oplage. De eerste Whiskyman-botteling was meteen een schot
in de roos: de Port Ellen 27 Year Old 1983/2011 'While My Whisky Gently Weeps',
gebotteld op 55,5% ABV. De 120 flessen waren sneller uitverkocht dan het
internetgerucht de ronde kon doen. Je moet er dus snel bij zijn…
Range
De
range – abstractie makend van de Malts of Scotland en Thosop-bottelingen –
bestaat momenteel uit deze single malts:
–
Port Ellen 27 Year
Old 1983/2011 'While My Whisky Gently Weeps', 55,5% ABV, 120 bts
–
Linkwood 26 Year Old
1984/2011 'Eleanor Whisky', 49,2% ABV, 88 bts
–
Glenlivet 38 Year Old
1973/2011 'Lucy in the Sky with Whisky', 47,5% ABV, 78 bts
–
Clynelish 14 Year Old
1997/2011 'All You Need is Whisky', 50,5% ABV, 160 bts
–
Bunnahabhain 43 Year
Old 1968/2011 'Dram Together', 46,5%, 120 bts
–
Ardmore 20 Year Old
1992/2012 'Peat Fighting Man', 49,9%, 146 bts
–
Littlemill 24 Year
Old 1988/2012 'Sympathy for the Whisky', 54,2%, 159 bts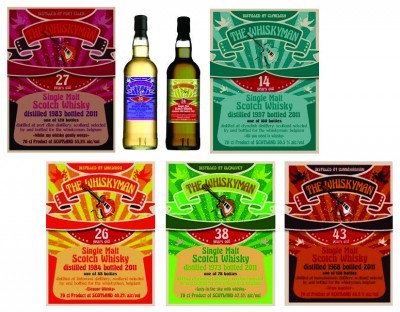 Maar
er zitten ook een Bowmore, Macduff, Tomintoul en Tomatin
in de pijplijn. Stuk voor stuk pareltjes, maar vooral de Littlemill kon ons
bijzonder bekoren. We kijken dan ook reikhalzend uit naar de release hiervan.