Vorig
jaar kondigde de Scotch Whisky Association aan dat de benamingen van whisky
zouden aangepast worden om de consument te beschermen en beter in te lichten.
Termen zoals Pure Malt, Vatted Malt en dergelijke moeten definitief verdwijnen.
Er zullen enkel nog deze vijf definities overblijven.
–
Blended Scotch Whisky (de
klassieke blend, met meerdere single malts en single grains)
–
Blended Malt Scotch Whisky (voorheen
vatted of pure malt, blend van enkel single malts)
–
Blended Grain Scotch Whisky (blend van
verschillende grain whisky's)
–
Single Malt Scotch Whisky (de ouwe
getrouwe single malt)
–
Single Grain Scotch Whisky (een
graan(maar-geen-malt)whisky van één distilleerderij)
Vanaf
23 november 2011 is het zover.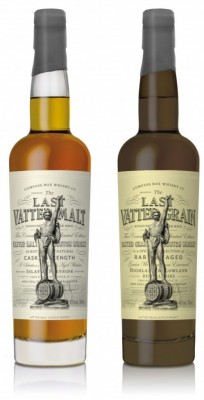 De
bekende whiskymaker John Glaser van Compass Box (en de marketingmachine
erachter) maken van deze gelegenheid gebruik om te stunten door een limited
edition op de markt te brengen van The Last Vatted Malt, een blended
malt op vatsterkte met 2 single malt whisky's (22% is een 34-jarige Speysider
en de overige 78% een 26-jarige Islay). De laatste fles zal ceremoniëel
afgevuld worden op 22 november om 23u59 (die marketingjongens toch). Slechts
1323 flessen zullen afgevuld worden, persoonlijk gesigneerd door John Glaser en
te koop aangeboden voor £175 (omgerekend toch zo'n 200 EUR).
Oh,
ja, we zouden het nog bijna vergeten. Ook de Last Vatted Grain wordt dan
voorgesteld.