Bottelaar: Asta Morris
Regio: Schotland (Speyside)
Fles: Glenburgie 13 Year Old 2008/2021, Asta Morris #AM093, ex-Sherry, 676 bts
Kleur: amber
ABV: 52%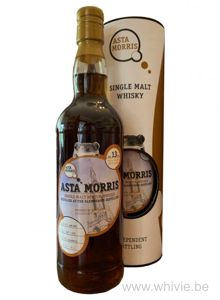 Boeiend
Zotte Bert heeft een soft spot voor Glenburgie, één van de fingerprint malts in de bekende blend  Ballantine's. Zoveel is zeker, want dit is al de 6e die hij geselecteerd heeft (de 5e onder het Asta Morris label, maar er is er ook een hele mooie door Signatory gebotteld voor hem). Deze 6e Glenburgie rijpte op een voormalig sherryvat na distillatie in 2008.
Ha, herfst in je glas. Ontbijtgranen met kokosnoot, korst van dubbel gebakken brood, meringue, vanille, wit fruit, overrijpe banaan, bladeren in het bos na een regenbui. Maar ook een kruidige bouillon, boerenboter en zelfs gekarameliseerde ui! Echt waar. Hij is een tikkeltje umami en ik vind het prima.
Lekker olieachtig, zeg maar romig. Mijn smaakpapillen zijn verward. Is dit zoet of zilt? Hartig of fruitig? Een beetje van allebei, besluiten ze. Maar pittig gekruid. Gebak met abrikozen en mandarijntjes in een stoofpotje tegenover bruin brood en een druppel kippensoep. Ik ben niet aan het zwanzen, hoor!
De afdronk is bijzonder lang, lekker kruidig en hartig.
Boeiend en gevaarlijk drinkbaar. Net geen 80 EUR. Vriendenprijsje.
87/100
Geproefd door Mark Dermul op 01-10-2021
(om snel andere tasting notes te vinden, surf naar www.whivie.be).