Bottelaar: Liquid Art
Regio: Jamaica
Fles: Jamaican Pot Still 2007/2019 Single Barrel Rum, Liquid Art, 116 bts
Kleur: koper
ABV: 55.3%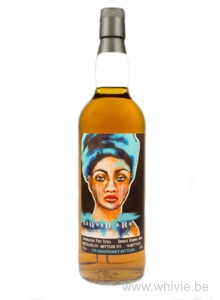 Suikerriet
Om hun 5e verjaardag kracht bij te zetten, bottelde Liquid Art niet alleen een geweldige Highland malt whisky van maar liefst 35 jaar oud. Ze keken ook over het muurtje en lanceerden twee rums. Die zetten we eventjes head-to-head. We beginnen met deze Jamaican Pot Still uit 2007.
De neus transporteert je onmiddellijk naar het eiland van Usain Bolt. Puur suikerriet op de neus met hints van peren en bakbananen. Iets van appelsiensap en rozijnen met een toefje vanille en een hint van koffie en houtlijm. Klassiek en uitnodigend.
Hij is bijzonder olieachtig, zeg maar vettig. Lekker prikkelend op de tong met toetsen van vanille, kokosmelk en banaan, aangevuld met chocolade en iets van hazelnoten. Lekker punchy, maar water is overbodig. De kruiden vertalen zich naar nootmuskaat, koriander, tijm en zwarte peper. Ook hier krijg ik weer een toets van houtlijm of vernis, maar het is géén off-note. Het werkt prima.
De afdronk is lekker lang en warm, met nougat en hazelnoten op het sterfbed.
Een heerlijk snoepje voor bij de koffie. Maar ik ga er toch ook wat mee experimenteren, want op die sterkte is hij ideaal voor een leuke cocktail. Overigens een prachtig label, toch? Te koop bij Bert Dexters voor 79 EUR. Je kan hem bereiken op bert@liquidart.be of via de Liquid Art website.
Geproefd door Mark Dermul op 16-11-2019
(om snel andere tasting notes te vinden, surf naar www.whivie.be).