Rond deze tijd van het jaar is het altijd uitkijken naar Ingvar Ronde's Malt Whisky Yearbook. Opnieuw steekt het boek tjokvol interessante artikels van top notch whiskyschrijvers als Gavin D Smith, Jonny McCormick, Ian Winiewski, Neil Ridly, Charles MacLean en Joel Harrison.
Traditiegetrouw staat de informatie over alle operationele Schotse distilleerderijen en hun laatste releases, Japanse whisky en nieuwe, maar ook gesloten distilleerderijen, centraal.
Tussen de distilleerderijprofielen publiceerde Ingvar interview met zogenaamde Pioneers of Whisky, allemaal whiskymakers die aan het begin van hun avontuur staan. Zo kan je onder andere kennismaken met Annabel Thomas van Ncnéan, Desiree Whitaker van Cardrona, David Vitale van Starward en David Zibell van Golani.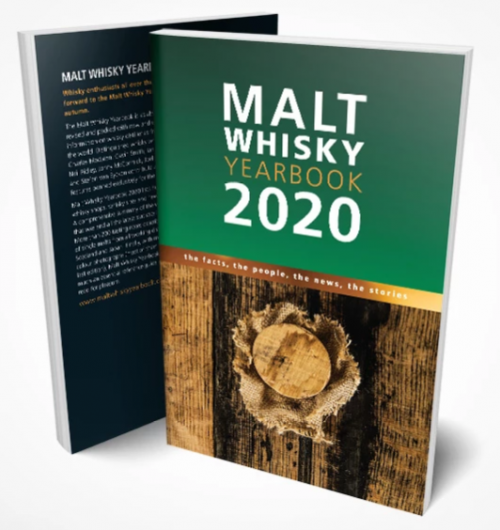 De goed gestoffeerde artikels in deze editie zijn wederom erg boeiend:
Foreign Ownership of Sctoch Whisky
The Feast From the Yeast
Supermarket Sweep
Whisky Regions – are they still relevant
Innovations Within Boundaries
Het zijn stuk voor stuk informatieve en goed geschreven artikels.
Het tweede deel van het boek wordt gedomineerd door statistieken, distilleerderijen wereldwijd, onafhankelijke bottelaars en de op handen zijnde nieuwe releases.
Het jaarboek is sinds begin oktober beschikbaar bij verschillende Whiviesponsors en hoort in elke whisky-liefhebbers boekenkast te staan. Het is mijn 'go to' boek voor informatie tijdens het schrijven van notes en artikels en het enige boek dat constant op mijn bureau ligt. Een échte whisky bijbel! En dat alles voor niet eens 20 EUR!
(Thank you, Ingvar, for signing my copy!)
Malt Whisky Yearbook 2020
298 pagina's, Engels
Ingvar Ronde
MagDig Media Ltd
ISBN 978-0-9576553-6-2
www.maltwhiskyyearbook.com